We are always on the lookout for inexpensive alternatives to parts and materials.  Here are a few we've found along the way.  We'll update the list as we think of others or find new ones in the future.
___________________________________________________________________
Aluminum Tube Split Collar (for roll bars/cages).


These sell on most racing supply websites for $15-20/ea.  We found these (1-3/4″ ID) on Ebay for $9/ea and can probably be found for even less.  We bought six collars @ $9/ea = $54, saving us $36 had we bought six @ $15/ea.  We didn't feel there could be much quality variation between the ones found on the expensive racing websites and some of the ones found on ebay; fortunately we were right.  The ones we purchased from "Uberacer" on ebay are great and have worked out perfectly since.
___________________________________________________________________
 Stainless Steel Turnbuckles (for splitter or rear wing stabilization).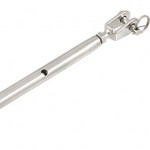 Another Ebay item we found that worked out for us, both in price and function are the stainless turnbuckles for approximately $12/ea.  The key with these turnbuckles, since they have a clevis (fork & pin) at each the end is how they are mounted to whatever it is that you are supporting.  Knowing how we wanted to mount these, we scoured the internet until we found exactly what we were looking for: aluminum "eye-ends" at Midwest Control Products

Not including the price of the bolts/screws you'll need to mount these turnbuckles, each turnbuckle and two "eye-ends" costs us <$15/ea.  Compare that to the minimum $60 price for a set of two turnbuckles by APR Performance; that's a very respectable savings.
___________________________________________________________________
Foamed PVC (great for aero elements, dash face plates, etc).  Very easy to work with.

One material that we like and have been using a lot of lately is "foamed PVC".  Foamed PVC is a lightweight PVC plastic that can be cut, drilled and even bent (using heat).  It comes in several colors and we've seen thicknesses from 1/8″ to 1″.   We've used it for everything aero related and a few other small projects.  We created our rear diffuser/underbody element, front splitter, rear view mirror brackets, etc, etc using various thickness of this material (1/8″ & 1/4″).
These sheets can be found online, but we sourced ours locally because we wanted two large 48″x96″ sheets.  Foamed PVC is often used by storefront sign makers, so check with your local sign maker if you are hoping to source some material locally.
Early development of the rear diffuser:

New rear wing extension:


___________________________________________________________________